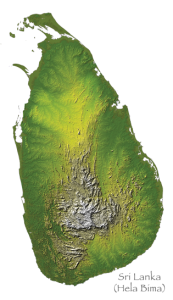 Welcome to the Hela Bima Rice Project.
We are growing 2,000 year-old ancient varieties of rice which provide whole food for health and healing.
The Hela Bima Rice Project is awakening and educating the world, honoring the farmers, their rice and well-being.
This ancient variety of sacred rice is grown by loving hands with conscious blessings from the farmers in Sri Lanka and energized by Dr. Abeywickrama. These nutritious grains are cultivated, harvested, milled and packaged by a rural community of small farmers using old Singhalese traditional wisdom, without chemicals, pesticides or harmful fertilizers.
"Ancient Energized Rice nourishing the soil and the soul."
What is Energized Rice?
Using ancient, sacred traditions of chanting powerful healing mantras and the blessings of Dr. Jayanath Abeywickrama, this rice is grown with agro-wisdom and nature-friendly agriculture, free of fertilizers and chemicals. Farming with this method rejuvenates the soil, the soul and humanity.
Hela Bima Rice Project with Dr. Jayanath Abeywickrama
Hela Bima World Documentary with Dr. Jayanath Abeywickrama